Book Review
Complementarians and Abuse of Women: Kevin Giles' Newest Book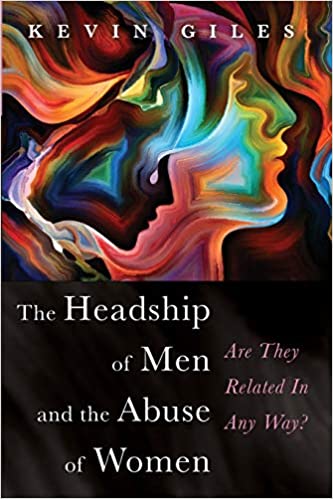 Kevin Giles latest, and he says, his final book is a challenging look at the practical outworking of a strongly complementarian view of gender relations in the church and home. You can order it online or directly from Kevin himslef if you have his contact details.
Here is a link to a review from Jesus Creed, pat of Christianity Today.
Kevin Giles, in his new book – one more than he thought he would ever write – explores the connection of complementarianism and male abuse of women. Is there correlation? Causation? A connection at all? His book is called The Headship of Men and the Abuse of Women: Are They Related in Any Way?

What the Bible Actually Teaches on Women by Kevin Giles
Kevin Giles delights in Australia and its ideal of being an egalitarian nation. This ideal is not always present and for Kevin the subordination of women, as taught in certain Christian communities in Australia, is one such exception. A deeply offensive one.
The teaching of the subordination of women upsets Kevin Giles deeply. He has advocated for equality between men and women for over 40 years. He has preached, spoken at conferences and written numerous books. He has at least 4 reasons for opposing the notion of women's subordination.
Read more: What the Bible Actually Teaches on Women by Kevin Giles
The Girl Effect
The recent Pulitzer Prize winning book, Half the Sky, suggests that ideas have profound consequences. The idea that females are less valuable than males has not only led to an indifference to their abuse and suffering worldwide, but gender prejudice has itself fueled the global abuse of girls and women. Yet there is a redemptive, irrepressible truth this book points to. It's called the "Girl Effect." What does this mean?
The "Girl Effect" is a phenomenon noted by relief organizations that when you educate a female, or invest in her business, she in turns shares the benefits with her family and wider community. Some organizations are now suggesting that the most powerful means of growing a community's welfare is by investing in the lives of its females. Scripture tells us that woman was created to be a strong helper, or in Hebrew, ezer (Genesis 2:18). The "Girl Effect" noted at the creation of woman is a truth often overlooked.
President CBE International