A Christian response to domestic violence
Details:

Written by

Bishop John Harrower
An address by Bishop John Harrower, Hobart, 29 April 2004 - originally on the Anglican Diocese of Tasmania website, republished by permission.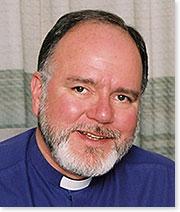 ---
I am more often in the media because of the issue of sexual abuse by clergy, than I am for domestic violence. There are, however, some parallels between the two issues. I believe we can learn from some of the mistakes the church worldwide has made in responding to these issues in the past. Mistakes that led to more children being sexually abused - or in the case of domestic violence, more women and children suffering deep and long lasting damage. (Domestic violence includes physical abuse, psychological and emotional abuse, sexual manipulation and abuse, isolation, economical deprivation and stalking.)
The first response of the church world wide to allegations of sexual abuse by clergy, was 'not to hear', because the belief was 'that good Christian men, who we knew, could not behave like that.' So the church's first response was 'not to hear' and its consequence, 'not to believe.' We face the same tendency when told of domestic violence.
Respect
Details:

Written by

Angus Macleay
R.E.S.P.E.C.T.
Arguments for the submission of wives in marriage
In August Dr Peter Jensen, Anglican Archbishop of Sydney, expressed his earnest wish to have a serious conversation on a subject of great importance. Writing in the National Times (29 August 2012) about men, women and marriage he declared that, "[m]arriage really matters. Thank God we are talking about it."
Most would agree that it does matter - in fact marriage rates have been stable or rising for years. But many disagree passionately with the views put by Dr Jensen about the submission of wives in marriage. Aware of this, Dr Jensen implored us to engage in a productive conversation with him on the issue. He observed, with noted exasperation, to ABC host Waleed Aly, "I've asked for a respectful conversation on this [debate]" (RN Drive 30/08/2012). So let's explore what Dr Jensen wants to say about women in marriage without a presumption that it prejudices women.
What does it mean to be a Christian man? A Biblical Perspective.
Details:

Written by

Rev Matt Williams
Rev. Matt Williams
2nd May 2011

Nearly four years ago
I married my wife, Jenny.

At the reception, I had the last word,
as preachers are wont to do.

Let me read you an excerpt from that speech.

"When I first knew Jenny was interested in me,
I was very reluctant.

Not because I didn't think she was wonderful,
but because I thought her rather too wonderful.
Read more: What does it mean to be a Christian man? A Biblical Perspective.
Abuse: The Elephant in the Sanctuary
Details:

Written by

Mimi Haddad



From the very beginning Christians for Biblical Equality (CBE) has endeavored to understand why so many Christian women have encountered abuse, and how the church might become agents of healing and reconciliation. Catherine Clark Kroeger, CBE founder and president emerita, vigorously addressed the challenge of abuse which she encountered early on. As president of CBE, Cathie directed a significant portion of CBE's energies to this challenge. In 1994, CBE held a conference themed "Women, Abuse, and the Bible." We were overwhelmed by the number of people who attended this event, and who had experienced abuse in a Christian marriage, family, or church. Within several years of this conference, we had enough material to publish three separate volumes on abuse, gender, and faith. Ultimately, when Catherine Kroeger retired as the first president of CBE, she went on to become founder and president of Peace and Safety in the Christian Home (PASCH), a nonprofit organization devoted to address domestic violence and abuse.
While CBE was established largely by academics to explore the biblical, theological, and historical material on gender, we were inevitably faced with the challenge of addressing abuse as well, simply by sheer numbers of individuals who called upon us for help. Had we been more alert to the prominence of abuse in culture we would not have been caught unaware. Certainly this is the point James Gilligan, a professor of medicine at Harvard, makes in his very helpful book entitled "Violence: Reflections on a National Epidemic". The prevalence of abuse is likewise noted in Jackson Katz's book "The Macho Paradox: Why Some Men Hurt Women and How All Men Can Help".
Honoring the Legacy of Dr. Catherine Clark Kroeger
Details:

Written by

Mimi Haddad
[Reproduced from the CBE International Website]
To our great surprise, our first president, beloved leader, and founder of Christians for Biblical Equality, Dr. Catherine Clark Kroeger, contracted pneumonia and died suddenly on Monday, February 14, 2011. If you are like me, you may find this news entirely out of character with Cathie. For so many of us, Cathie was the embodiment of unsinkable human vitality.
Read more: Honoring the Legacy of Dr. Catherine Clark Kroeger